Search our web site
Congleton Choral Society is a member of Making Music, The National Federation of Music Societies.
Congleton Choral Society is a Registered Charity
No: 515851
About Us
Founded in 1971, this is a friendly and busy mixed choir of some 70 voices. In May 2011 Congleton Choral Society welcomed Christopher Cromar as its Music Director.
Christopher Cromar
Music Director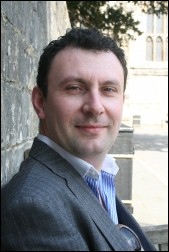 Christopher Cromar is Music Director of Royal Leamington Spa Bach Choir, and Congleton and Sandbach Choral Societies. He is a former Music Director of Keele University Bach Choir and Salford Choral Society, and pursues a freelance career as both conductor and concert organist. He was born in Scotland where he was a chorister at St. Paul's Episcopal Cathedral in Dundee. In 1992 he won a scholarship to Chetham's School of Music, studying the organ with Christopher Stokes at Manchester Cathedral, and with Nicolas Kynaston and Kimberly Marshall in London. He was a finalist in the 1995 and 1997 National Young Organist Competitions at Plymouth.

Christopher has given organ recitals at many prestigious venues including Westminster Abbey, Westminster Cathedral, King's College Cambridge, St. Giles' Cathedral Edinburgh, the Caird Hall Dundee, in the United Kingdom; Notre Dame, Sainte-Clotilde, Saint-Germain-des-Prés, Saint-Roch, Saint-Étienne-de-Caen in France, and throughout Germany, Greece, Holland and the USA. He has played with the Bournemouth Symphony Orchestra, Philharmonia Orchestra and Orchestre de Paris, and recently performed the Poulenc Organ Concerto in Guildford Cathedral with Southern Pro Musica.

Contemporary music is a prominent feature of Christopher's repertoire. He premiered Errollyn Wallen's Tiger at the 2001 Oundle International Festival, and gave the piece its London premiere later that year at St. Paul's Cathedral. He has worked closely with many contemporary composers including Peter Maxwell Davies and Jonathan Dove, frequently in preparation for first performances and broadcasts.

Illustrious choruses with which Christopher has been invited to work as guest chorus master or accompanist include the Chorus of Radio France, BBC Singers, Manchester Chamber Choir, RSNO Chorus, Vasari Singers, Brighton Festival Chorus, Chelsea Opera Group, and he served on the deputy music staff of St. Margaret's Church, Westminster Abbey for a number of years.


---
From 2009 to 2011 the choir was conducted by Nick Concannon Hodges
---
From 1975 to 2009 the choir was under the direction of David Johnson.
---
Andrew Green began his organ studies at Wakefield Cathedral. He studied Music at Newcastle University, working as accompanist, harpsichordist and organist with the Northern Sinfonia, leading and conducting the University Orchestra, and giving violin recitals with Professor Denis Matthews.
After being awarded a First Class degree in 1972, he spent three years lecturing in the university. He taught at the King's School, Macclesfield, for 34 years, being Director of Music for the last 26 of those years. He continued working as accompanist with various adult choirs (including St George's Singers, Poynton and the Stockport Festival Chorus). His main work with choirs, however, was at King's, where the Foundation Choir became the first winners of the BBC Songs of Praise Senior School Choir of the Year in 2003.
He conducted the Sixth Form Chamber Choir in performances of the Fauré Requiem, Vivaldi Gloria, Britten's Saint Nicolas and other works with the Northern Chamber Orchestra. One of his organ scholars at King's, David Baskeyfield, won the St Alban's International Organ Competition in 2011. Andrew has now retired from King's but remains Music Director at Tytherington Family Worship church in Macclesfield.
He enjoys spending a little more time improving his golf, while maintaining frequent connections with King's and continuing to enjoy accompanying choirs.
Congleton Choral Society would like to pay tribute here to the late Margaret Williamson, MBE DL, our President, who died at Easter 2015.

Margaret was a constant friend and supporter of the society for many years, both as Vice-President and Honorary Vice-President. We were delighted when, in 2013, she agreed to become our President. She worked tirelessly to raise our profile within the local community and to raise funds for Congleton Children's Choir.
Margaret was a familiar presence at our concerts, often to be seen chatting to choir members during concert intervals, offering words of praise and encouragement. We have benefited greatly in many ways from her energy and enthusiasm. We shall miss her very much, not least for her warm personality, her radiant smile and her infectious sense of humour. We remember her with gratitude and affection.
The Choral Society Year
We present four concerts a year in Spring, Summer, Autumn and at Christmas. The choir enjoys the challenge of learning and performing a varied repertoire under Christopher Cromar's inspiring direction; we are fortunate also to engage professional orchestras, distinguished accompanists and excellent guest soloists to perform with us.

Every two years we host a singing workshop with well-known professional conductors and composers. These are open to the general public and are well-attended and greatly enjoyed.
Our Venues
Congleton Town Hall
The Victorian Gothic architecture of Congleton Town Hall dominates the skyline. The present building was erected in 1864, at a cost of £8,000, and to a design of Mr E W Godwin. It was opened to the public on 11th July 1866.
Over the years it has suffered many 'improvements'. Typical of these was the erection of a false ceiling in the 1960s, covering up the magnificent hammer-beams in the roof. However, thanks to the energies of local visionaries, the Town Hall is now restored to its former glory. Its wonderful features - including a stone minstrels' gallery - are on view to all.
St Mary's Church, Astbury
'The church of St Mary at Astbury is one of the most beautiful in the county. Its exterior, dominated by the detached tower and lofty spire, evokes the admiration of the beholder and this is increased when the majesty of the interior is surveyed.' So wrote Raymond Richards in his book 'Old Cheshire Churches. Congleton Choral Society is privileged to perform in such majestic surroundings.